The new set of bananas are growing well. There are seven distinct sets of hands, with the first one looking extremely impressive with the most number of fruits.
Now that all the fruit-bearing bracts have emerged, we're back to that old question of whether or not to remove the heart and male flowers. We did this the last time, so I didn't get to measure the distance of the heart from the fruits to gauge when to harvest the fruits … and since these are green-skinned bananas, you can't wait for the signal banana to tell you when they're ready. As a matter of fact, the fruits began to ripen on the plant while we were still stupidly looking for the signal banana. Maybe we'll leave the heart on this time…
I'll just say that we're pretty chuffed about the fruits. It's been inspiring lots of "minion moments" – if you've seen the animated movie, Despicable Me, you'll know what I mean.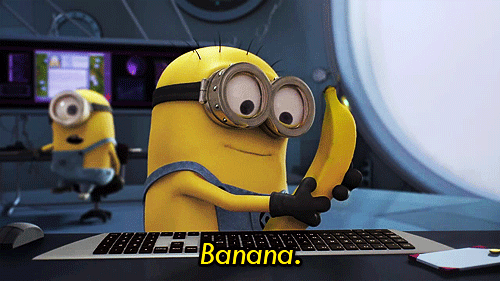 Or watch the full "Banana" short clip on Youtube. I don't own that copyright so won't post it here. Enjoy.
© 2015 curiousgardener.com All rights reserved.